CUBiSCAN - a powerful and economical solution for your foreign matter contamination
30 years of know-how in foreign fibre detection and ejection allow us to offer a flexible, economical and efficient solution.
The CUBiSCAN uses up to 6 identical - German-made smart cameras for high speed processing and very short response times. All features can be integrated in a compact machine. A plurality of particles can be eliminated by use of different illumination.
Colour feature for detection of foreign coloured particles
Polarization feature for transparent film and sheet material on request.
Gloss module for particles that are whiter or shinier than average material.
LED lighting for longevity and high- intensity illumination.
UV lighting for detection of fluorescent particles.
A Siemens central processor, with LCD touch screen, exchanges data with the cameras, with the operator, or with the factory's data system.
The inspection windows can be easily slid out to either side for cleaning.
The machine body is made out of stainless steel. Standard high speed valves eject the material to a suction fan.
24 VDC used in all electrical elements.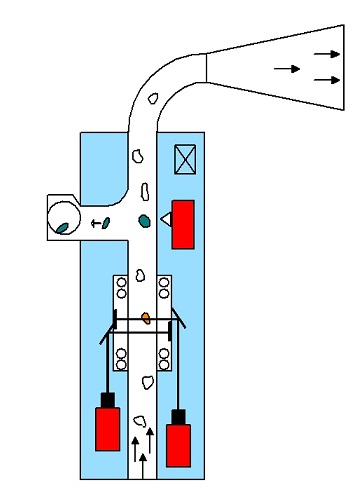 CUBiSCAN uses high resolution image processing colour cameras.

A new image acquisition and processing concept allows high speed image reading at 7000 lines per second with 2560 colour pixels per line.
This high resolution is needed to detect small contamination and it is also very useful to guarantee constant detection results even at small colour variation.
The detection sensitivity is set by a rotary switch, which makes the machine very easy to operate. Camera and computer are very small and use highly integrated components. No mechanical memory drives are used. The positive removal avoids the recycling of ejected material.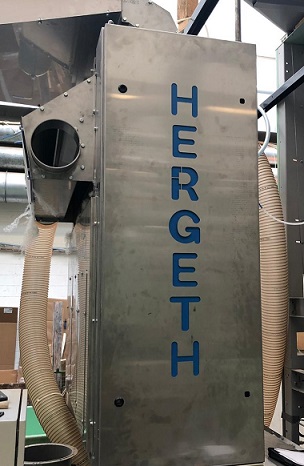 CUBiSCAN is a very flexible and compact machine.

With a machine size of 400x1290x1280 mm and less than 280 kg weight the CUBiSCAN 800 is very small compared to previous machines, but offers powerful performance. The small footprint and the option between horizontal and vertical fibre flow reduces the piping costs and makes it very flexible to install in existing opening lines. For high production rates HERGETH GmbH offers CUBiSCANs with broader scanning widths.
CUBiSCAN and the additional options

The CUBiSCAN is a very economical and reliable product without unnecessary complications. Features like the paper print-out or the network module are optional. Communication modules can be added to follow detection statistics. In the CUBiSCAN it is possible to double the number of valves or cameras depending on the needs.


CUBiSCAN is an economical solution.
Due to the size and the weight of the CUBiSCAN, installation and transport costs are reduced to a minimum. As the CUBiSCAN can directly be mounted on the machine (e.g. opener) or very close to it, long pipes are not necessary. The rectangular connection funnel keeps the fibres opened and spread across the width. The very simple design makes the machine robust, economical and easy to operate, so the user training can be made in just a few hours. The system uses smart valves. If a foreign matter is at the right side of a valve area, also the right neighbouring valve is activated.
Also machines up to 2500 mm are being produced.
Siemens PLC and HMi are used, standard valves are used.
Watch: Foreign fibre ejection in the air stream